FAQS
How long are the online events available to watch?
The online premieres will remain online permanently after the advertised start time. Tuning in to the premiere means you'll be one of the first to view these insightful conversations and can comment/react to the content in the live chat box with other online viewers. The panel discussion Mark Kermode in Conversation with Neil Brand and Mike Hammond is a live event featuring an audience Q&A. and will only be available to ticket holders. This will be made available to watch retrospectively at some point later in the year but we highly recommend tuning in live and joining the discussion! The Festival live streams will broadcast live at the advertised event times. These will also be made available to watch retrospectively after the Festival, but some material featured in these talks will be removed from the recording due to licensing requirements.
Can I watch an event more than once? 
Yes, please do! The online premieres will be available to view after they have launched on the Falkirk Community Trust YouTube account, or the HippFest Facebook page. The live panel discussion and live streams during the Festival will only be broadcast 'live' at the advertised start times, so to avoid missing out please book a ticket. Once these are hosted retrospectively online later in the year, you can of course tune in as many times as you like.
Which devices can I use? 
You can view our online events on a variety of devices including a laptop, desktop computer, tablet, smart phone or television which supports browser-based viewing.
Can I watch the online events from anywhere in the world? 
Yes. Our HippFest at Home events can be accessed from any location, as long as you have a digital device with an internet connection and have online access to YouTube, Facebook, and/or Zoom. The platforms required to tune in are detailed on each event.
Will the online content be subtitled, captioned or signed? 
All our spoken word events  feature closed captions. These can be accessed via the 'CC' icon, a button on the video player which allows you to switch captions on or off. Somesilent films contain intertitles. When these are not in English, English surtitles are provided.  Events on Zoom will have live captioning and BSL-English interpretation.
Do I need a Facebook account to take part?
No, you are not required to have a social media account to participate. Whilst we encourage silent film fans to join the HippFest at Home Facebook Group, and the online HippFest Hub, this is optional.
Will my face or personal details be visible during the online Q&A events?
No, the Zoom Q&A will take place in a Webinar context, which means that only those taking part in the Q&A will be visible. You will have a chance to ask questions live via the 'chat' function.
How do I ask a question in a Q&A?

During the Q&A a dialogue box will appear prompting you to submit your question to the panel. These will then be reviewed by the HippFest team before being presented to the participants. Due to time constraints we cannot guarantee that every question will be answered, but we will endeavour to voice as many contributions as possible. Our live streams this year are a pilot and we have limited capacity to feed questions submitted online to the speaker. If you would really like to participate in the Q&A, we recommend booking an in-person ticket if possible, or submitting your question in advance.
I have a question, how can I get in touch?
If you have a question about your ticket/s, making donations, access requirements, the mailing list or refunds please contact the Falkirk Community Trust Box Office on 01324 506850 or If you have a question for the HippFestteam specifically, please email hippfest@falkirkcommunitytrust.org. We are a small team but will get back to you as quickly as we can (if you are getting in touch outside of the UK, please remember we are operating in GMT/UTC+0).
If more convenient, you can also message HippFest on any of our social media platforms.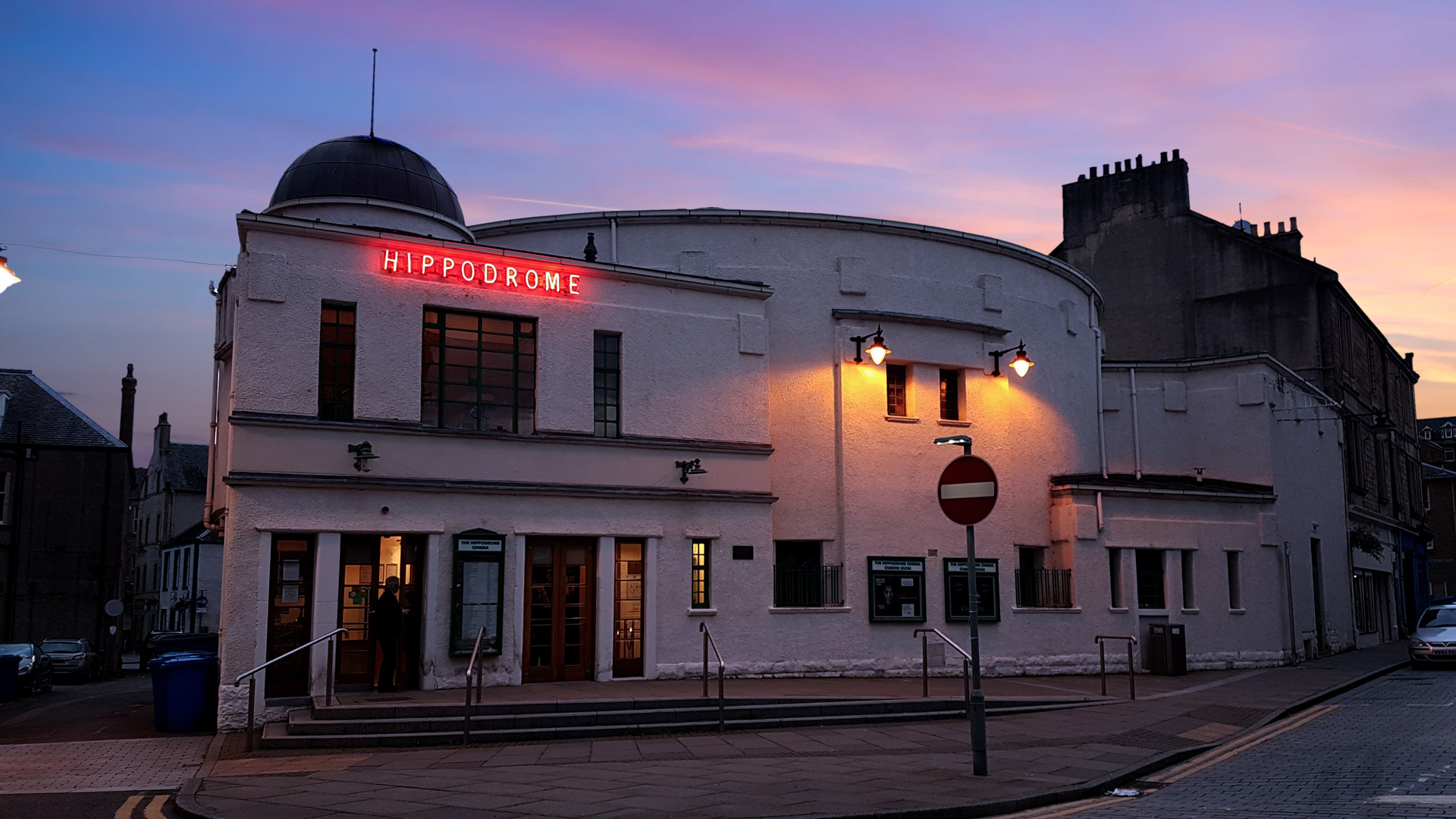 Where is the Hippodrome Cinema?
The Hippodrome is Scotland's number one 'destination' cinema and winner of Best Cinema Experience in Scotland 2019. Built in 1912 by local businessman Louis Dickson, and widely regarded as Scotland's oldest purpose-built cinema, it sits in the town of Bo'ness (short for Borrowstounness but always known by its shortened name) on the Firth of Forth between Edinburgh and Glasgow.  
 Bo'ness has a wonderful community spirit, which can be seen during the Festival when local shops and businesses warmly welcome our audiences and dress the town by competing in our shop window competition. We're lucky to have as neighbours the Bo'ness and Kinneil Railway, which hosts our ever-popular Platform Reels screenings, and the Barony Players who also welcome our audiences into their delightful home each year. There is also the John Muir way to explore and Roman remains at Kinneil Estate.

Connect with us online:
#HippFest2022 #HippFestAtHome
Instagram: @hippfest | Facebook: /HippFest | Twitter: @HippFestScot