FAQs
How long are films available to watch?
Each film has been scheduled as if it were happening in the Hippodrome Cinema with a specific time it will go live.
DOWNLOAD SCHEDULE
Films are then available for 48 hours from that time. Please note that all times quoted are GMT/UTC+0.
Can I watch a film more than once? 
Yes, you can watch the film multiple times within the 48-hour window of availability.  
Why are films only available for certain dates? 
All our films are subject to screening arrangements and licensing requirements set by the various film distributors and archives who have kindly allowed us to showcase these films online as part of the Festival.
Which devices can I use? 
You can view the programme on a variety of devices including a laptop, desktop computer, tablet, or television which supports browser-based viewing.
I am having problems logging into INDY On Demand, who can help me?
If you have any technical problems with INDY On Demand, please look at their help page here using the 'contact' option at the bottom of the page (or email info@indyondemand.com) if your question is not answered. Please note that the HippFest team are unable to answer any questions related to the platform.
How do I know INDY On Demand is secure?
INDY On Demand is powered by Shift72, one of the world's leading video online platforms used by some of the biggest international companies and festivals. Entering your card details here holds only the same risk as on any other website, so you need to take any usual precautions. Card data is not stored on the site.
Can I share my pass with someone else?
Passes are non-transferable.
Can I join HippFest 2021 from anywhere in the world? 
Due to licensing agreements our programme is available to audiences based in the UK, Europe, and North America only.
Will the online content be subtitled or signed? 
All spoken word content on INDY On Demand (introductions, talks, workshops etc) will have English subtitles. These will be embedded into the video files so there is no need for you to set up subtitles when viewing. The silent films contain intertitles. When these are not in English, English surtitles are provided. The Q&As on Zoom will have live captioning and BSL signage.
How do I find out more about the films in the programme?
All the feature films will be supplied with a welcome from Alison Strauss, Festival Director, and many also feature a short introduction by a guest speaker who will provide further context to the film you are about to watch. These are available as separate files and can be viewed in the same way as the film content.
We have also provided programme notes for the majority of the features, which are available to download.
Do I need a Facebook account to take part?
No, you are not required to have a social media account to participate. Whilst we encourage pass-holders to join the Facebook Group, this is optional. We also encourage pass-holders to share their experiences via other social media platforms if preferred, HippFest's full list of handles and hashtags can be found at the end of this document.
Will my face or personal details be visible during the online Q&A events?
No, the Q&As will take place in a Webinar context, which means that only those taking part in the Q&A will be visible. You will have a chance to ask questions via the 'chat' function.
How do I ask a question in a Q&A?
During the Q&A a dialogue box will appear prompting you to submit your question to the panel. These will then be reviewed by the HippFest team before being presented to the participants. Due to time constraints we cannot guarantee that every question will be answered, but we will endeavour to voice as many contributions as possible.
I have a question for the HippFest team, how can I get in touch?
If you have a question for our team, please email hippfest@falkirkcommunitytrust.org. We are a small team and will be busy during the Festival so will get back to you as quickly as we can (if you are getting in touch outside of the UK, please remember we are operating in GMT/UTC+0). We cannot answer technical problems about the INDY On Demand platform.
If more convenient, you can also message HippFest on any of our social media platforms (see below). Please be mindful that we are operating at a limited capacity and therefore may not be able to respond immediately, but we will get in touch as quickly as we can.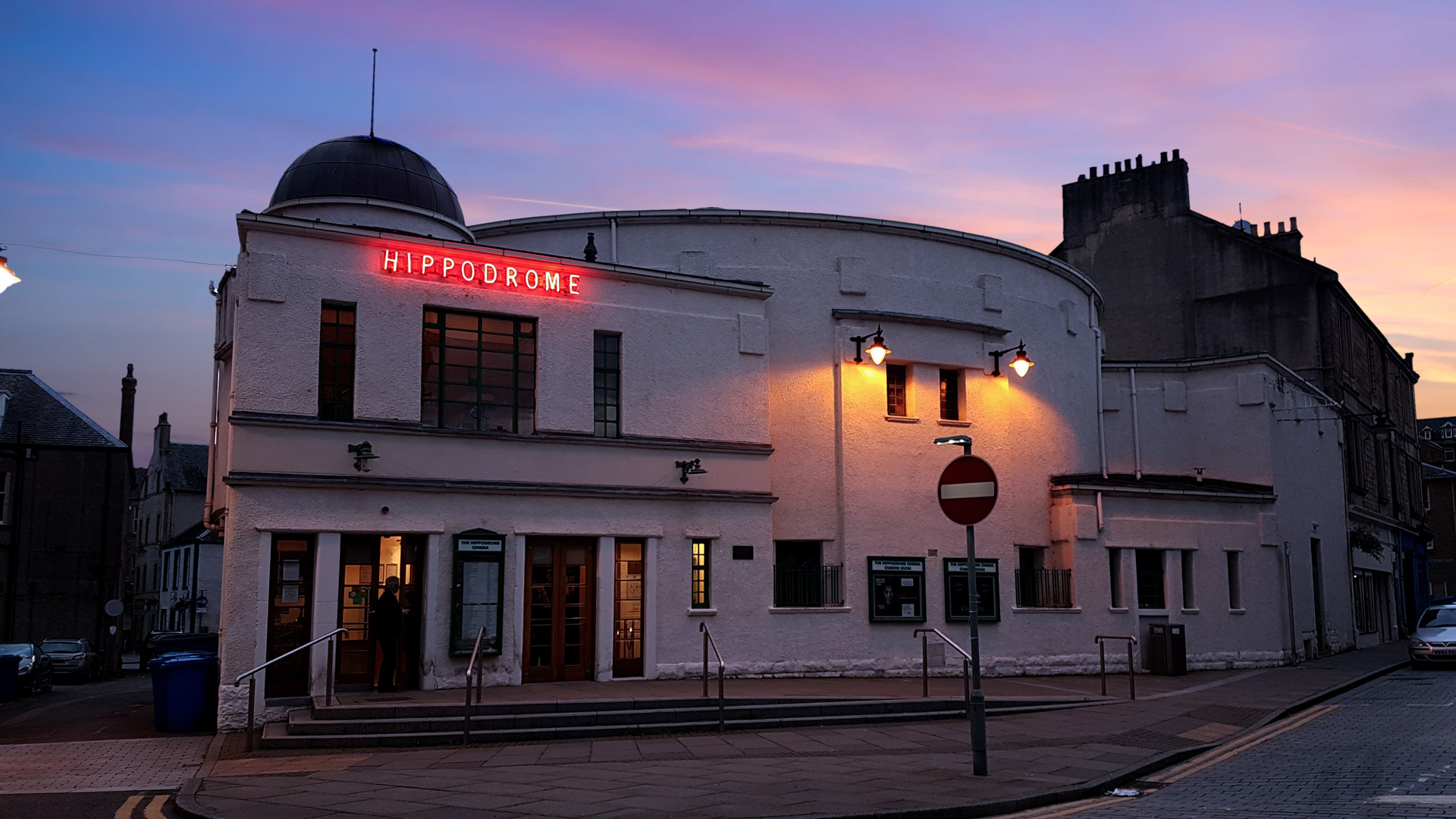 Where is the Hippodrome Cinema?
The Hippodrome is Scotland's number one 'destination' cinema and winner of Best Cinema Experience in Scotland 2019. Built in 1912 by local businessman Louis Dickson, and widely regarded as Scotland's oldest purpose-built cinema, it sits in the town of Bo'ness (short for Borrowstounness but always known by its shortened name) on the Firth of Forth between Edinburgh and Glasgow.  
Bo'ness has a wonderful community spirit, which can be seen during the Festival when local shops and businesses warmly welcome our audiences and dress the town by competing in our shop window competition. We're lucky to have as neighbours the Bo'ness and Kinneil Railway, which hosts our ever-popular Platform Reels screenings, and the Barony Players who also welcome our audiences into their delightful home each year. There is also the John Muir way to explore and Roman remains at Kinneil Estate.
To give you a flavour of the town, Alison Strauss, Festival Director and programmer of the Hippodrome year-round, has filmed her daily welcomes to the Festival in and around Bo'ness and our virtual walking tour – available from 11am on Friday 19 March – shows the influence of Matthew Steele, the architect responsible for creating the original cinema.
You can learn more about the Hippodrome by watching the 'Behind The Scenes' tour available as part of the Festival programme from 11am on Thursday 18 March.
We look forward to seeing you in person in Bo'ness in 2022! Provisional dates are 16-20 March 2022.
I would like to support you, how can I make a donation?
You can donate to HippFest via Text Giving. Text HIPPFEST to 70460 to donate £10 or you can opt to give any whole amount up to £20 eg. text HIPPFEST5 to donate £5 etc. Standard rate message costs apply.

Connect with us online:
#HippFest2021 #HippFestTurns10 #HippFestAtHome
Instagram: @hippfest | Facebook: /HippFest | Twitter: @HippFestScot