Sat 4 July at 20:00 (BST)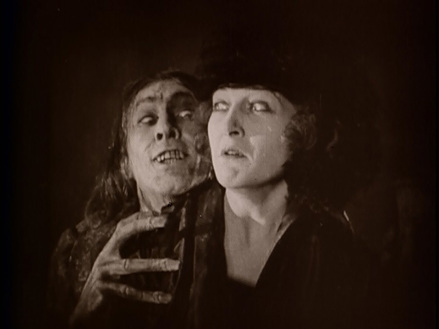 Don't miss our free online screening of Dr Jekyll and Mr Hyde (1920) this Saturday 4 July at 20:00 BST (UTC+1).
The screening will be accompanied by HippFest favourite: musician and broadcaster Neil Brand on piano, and introduced by silent film historian and film critic Pamela Hutchinson.
This classic horror tale written by Robert Louis Stevenson was a box-office hit when it was first released, and some critics feared it was dangerously scary and not suitable for viewing by pregnant women and children!  The leading role is played by American actor John Barrymore whose transformation into the hideous, brutish, evil creature Mr Hyde without makeup, has been heralded as one of the most brilliant performances of his career.
To view Dr Jekyll and Mr Hyde (1920) online join our dedicated group and enjoy themed pre and post-screening discussion here: bit.ly/WatchDrJekyllAndMrHyde
To register your interest in the screening itself, bookmark this link: bit.ly/ViewingDrJekyllAndMrHyde
Dr Jekyll and Mr Hyde (1920) Dir. John S Robertson | US | 1920 | 1h 13m
With: John Barrymore, Brandon Hurst, Martha Mansfield
Unrated/recommended 12+ | Screening courtesy of Kino Lorber
HIPPFEST 2020 UPDATE
On 13 March we took the tough decision to postpone the 10th-anniversary edition of the Hippodrome Silent Film Festival (HippFest) and reschedule to 23 - 25 October.
Since then, the outlook for events for the rest of the year has changed dramatically and, with the First Minister's statement of 23 April anticipating that social distancing and limiting our contacts with others to reduce the spread of COVID-19 will last much longer than we had initially thought, we regret to announce that we are now unable to go ahead with a scaled-down HippFest in October. 
 We know this will be disappointing for all our audiences, supporters, partners, artists, guests, volunteers and staff and, in the hope that the new normal allows us to, we look forward to welcoming everyone back to HippFest in March 2021.
The dates planned for 2021 are 17-21 March.