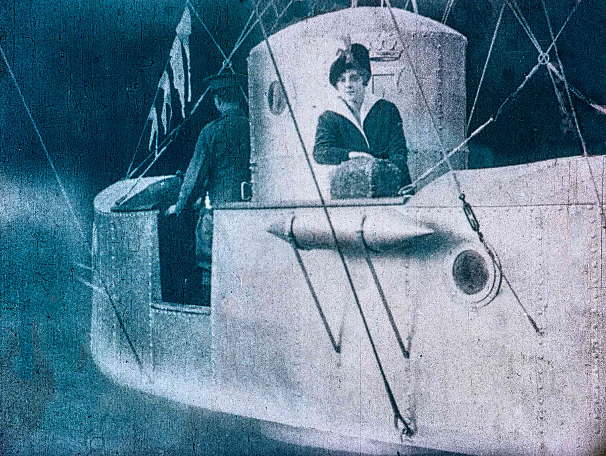 This silent film with live music opened the community events at this year's Festival in Bo'ness just days before the main programme was postponed. Audiences are in for a real treat as Filibus (aka Baroness Troixmond … aka the cross-dressing Count de la Brive) takes us high across the Italian Riviera in her airship in this 1915 witty, feminist, steampunk, cross-dressing, aviatrix, silent thriller with piano accompaniment from Jane Gardner, percussion from Hazel Morrison, and audience participation actively encouraged!
Described in the New York Times as 'the spryest comic-book movie of the season', Filibus is a master of disguise, the scourge of millionaires, all banks, and the police. Lowered from her magnificent airship in a gondola by her henchmen Filibus steals from the rich and then mysteriously vanishes into the clouds. Amused by a stodgy detectives' boast that he will un-mask Filibus, the 'Baroness' informs the police that the detective himself is Filibus and proceeds to frame HIM for her crimes.
Fillibus - the alluring, techno-savvy, jewel-thief is a master in disguise and would not be out of place in a classic Bond movie.
Dir. Mario Roncoroni | Italy | 1915 | N/C U | English intertitles | 1h 11m + short
Accompanied by musician and composer Jane Gardner and percussionist Hazel Morrison
With: Varleria Creti, Cristina Ruspoli, Giovanni Spano, Mario Mariani and Filippo Vallino
Screening courtesy of Dennis Doros and Amy Heller, Milestone Films. Supported by Screen Scotland
To access our Filibus (1915) online screening (28 Nov to 30 Nov) click https://bit.ly/Filibus