Support the Trust year-round
As a charitable organisation, we need to attract additional support - whether it be grants, sponsorship and donations - these are really important to ensure we continue to develop and deliver projects and services that make a real difference to the quality of life for people in the Falkirk area.
For more information on how you can support Falkirk Community Trust, please contact us. 
You can donate online by clicking here.
Support HippFest (Hippodrome Silent Film Festival) 


HippFest is one of Scotland's most prestigious and popular film festivals, taking place annually in Scotland's oldest purpose-built cinema - the Hippodrome in Bo'ness. Renowned for its warm welcome, inclusive atmosphere and community engagement, the Festival attracts fans of cinema and live music and has an unrivaled reputation in the UK for screening an exciting programme of international silent films, accompanied by a dazzling line-up of new and established musicians and performers.
We have a range of corporate sponsorship opportunities available from £500 - £10,000 please download our sponsorship document for more information and contact Alison Strauss, Festival Director alison.strauss@falkirkcommunitytrust.org to discuss how we can work together.
HippFest Funders and Supporters 2021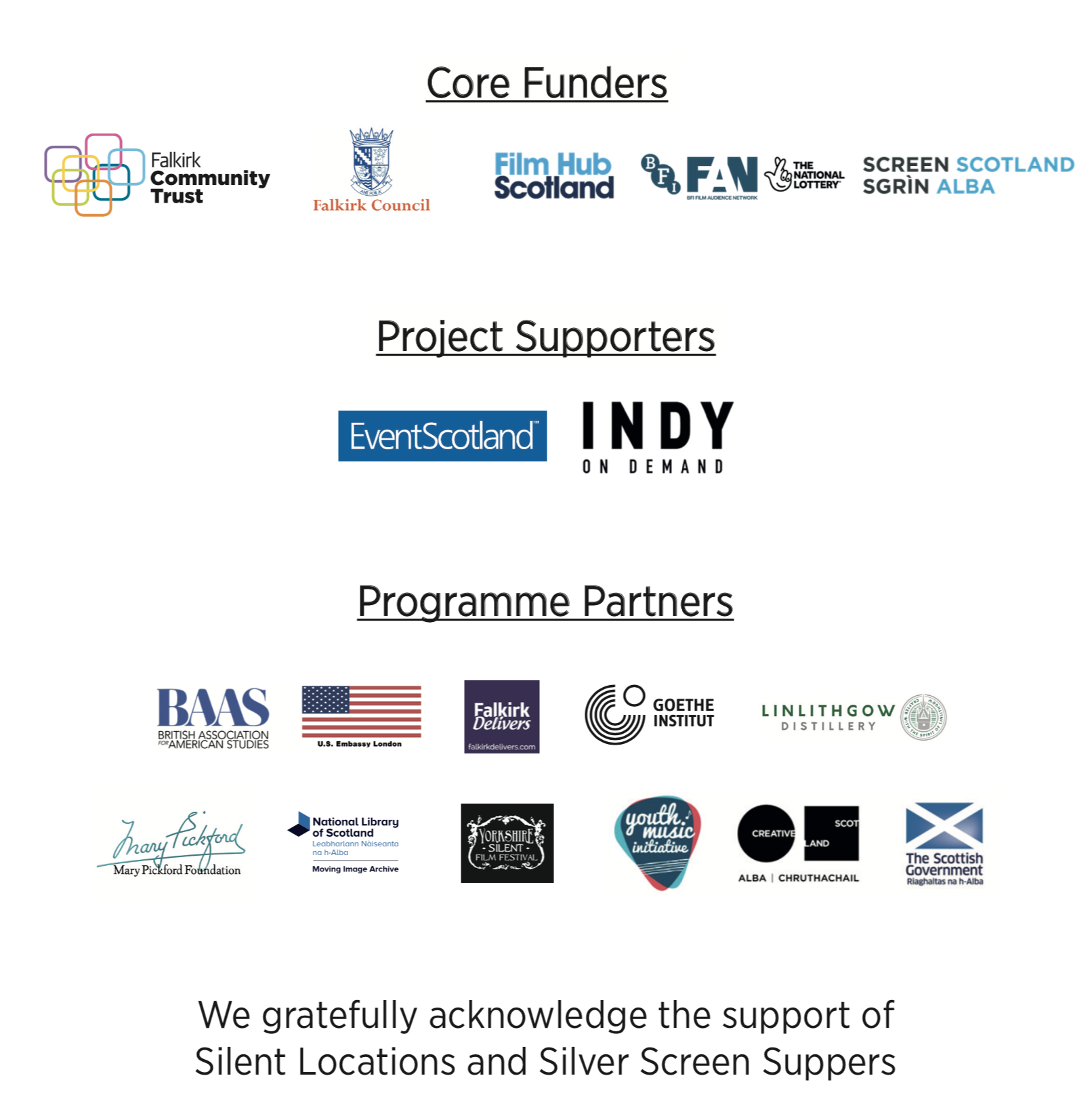 THANK YOU
Thanks to everyone in Falkirk Community Trust who helps make the Festival happen, as well as the following individuals and organisations:
Carmen Accaputo (Cineteca di Bologna), Cari Beauchamp, Jonny Best (Yorkshire Silent Film Festival), Colin Broom, Serge Bromberg and Maria Chiba (Lobster), Ian Brown and Magda Rothko (INDY On Demand), April Brumfield (Brumfield & Associates Music Inc), David Cairns, Margaret Deriaz, Bryony Dixon (British Film Institute), Dennis Doros and Amy Heller (Milestone),Gail Fairholm (Corbie Inn), Elaina Friedrichsen (Mary Pickford Foundation), Clara Giruzzi (Tamasa Distribution), Jenny Hammerton (Silver Screen Suppers), Jonathan Hertzberg (Kino Lorber), Gary Hobish (San Francisco Silent Film Festival), Pamela Hutchinson (Silent London), Alyson Jamieson and Ross Jamieson (Linlithgow Distillery), Mike Mashon (Library of Congress), Hannah McGill, Karen Millar (Inkspot and Silverleaf), Nick Mortimore, Charles Musser (Yale University), Dr Nacim Pak-Shiraz (University of Edinburgh), Fabio Quade (Friedrich-Wilhelm-Murnau-Stiftung), Maria Safont and Corinna Reicher (BFI), Graeme Scheach (Hostelling Scotland), and John Somerville, Jay Weissberg (le Giornate del Cinema Muto).