Screenings 25 September 2019
ROB ROY (1922) Silent Film to tour Scotland
The Hippodrome Silent Film Festival (HippFest) is delighted to announce that it will tour the 1922 silent film version of Rob Roy with live music composed and performed by multi-instrumentalist David Allison to seven venues in Scotland including Stirling Castle where it was originally filmed. The tour is supported by Film Hub Scotland and will run until February next year.
Scotland's fear and Scotland's pride, Rob Roy MacGregor… touring Scotland
The silent film Rob Roy (1922) accompanied by a new score commissioned by HippFest was first presented in March this year, the music being written and performed by multi-instrumentalist and composer David Allison whose previous silent film compositions include Nosferatu (HippFest 2011) and The Last of the Mohicans (HippFest 2018). 
Rob Roy is an impressive biopic of the well-known Scottish folk hero and stars British stage and film actor of the day David Hawthorne. It was shot entirely on location in the Trossachs and nearby Stirling Castle, whilst the 10th Duke of Argyll gave permission to the production to film on his estates. The film makes liberal use of Scots for the intertitles ("dinnae fash yersel") and has epic fight scenes abound, with more than 800 men of the Argyll and Sutherland Highlanders enlisted as extras in a dramatic battle. 
Festival Director (Falkirk Community Trust) Alison Strauss said: "We are delighted to be touring this rip-roaring early film version of the life of Rob Roy and are grateful to Film Hub Scotland for their continued support of our touring programme. When the film originally premiered in Glasgow in 1922 the city literally came to a standstill and newspapers reported that officers and men of the Royal Scots Fusiliers marched down from Maryhill Barracks with their band, and hundreds of wounded from the local military hospitals were brought down to the cinema. Special police were on duty and Sauchiehall Street was completely blocked. The film was an enormous success; packing out movie houses the length and breadth of Scotland and hailed as the Scottish national drama. This wasn't the first film version of the Rob Roy story ever made but it is certainly the most epic, and is made even more dramatic by David Allison's outstanding new score performed live at each screening. I hope that audiences across the country will experience all the thrill and excitement of seeing this significant Scottish production on the big screen, just like those excited crowds did almost one hundred years ago."
Musician David Allison said: "Rob Roy is an iconic figure in Scots History so it's an honour to tour the film with my live score around the country, and especially to take the film home to Stirling Castle."
 Sambrooke Scott from Film Hub Scotland said: "Film Hub Scotland is a proud supporter of the great work of HippFest and committed to creating more opportunities for Scottish audiences to enjoy archive film. With BFI National Lottery support, audiences across the country can enjoy the epic story of Rob Roy, brought vividly to life by David Allison's fantastic new score."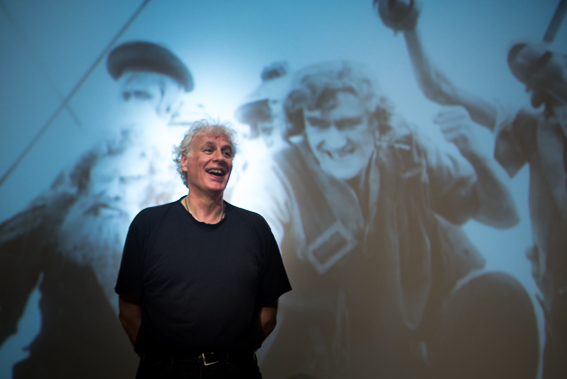 Rob Roy Tour 2019/20
Sunday 8 September 2019 - Screenplay Festival, Mareel, Shetland
Wednesday 6 November 2019 - Robert Burns Centre Film Theatre, Dumfries
Thursday 7 November 2019 - Stirling Castle
Friday 8 November 2019 - Dunoon Film Festival
Tuesday 12 November 2019 - Inverness Film Festival, Eden Court Theatre
Friday 24 January 2020 - Dundee Contemporary Arts
Friday 14 February 2020 - Queen's Hall, Edinburgh
Musician David Allison has created a number of successful live soundtracks for silent films, including The Island Tapes and The St Kilda Tapes which toured internationally and sold out at festivals such as Celtic Connections. As well as last year's HippFest opening title The Last of the Mohicans (1920), and the 1922 horror classic Nosferatu (HippFest 2011), David has produced three solo studio albums: Reporting, Guitar Gi-tar and Acoustic Movies.