24 November 2020
Filibus: The Mysterious Air Pirate
The Hippodrome Silent Film Festival (aka HippFest) is presenting Filibus: The Mysterious Air Pirate (1915) online on Saturday 28 November at 20:00 BST as part of the third edition of St Andrew's Fair Saturday in Scotland.
To access our Filibus (1915) online screening (28 Nov to 30 Nov) click https://bit.ly/Filibus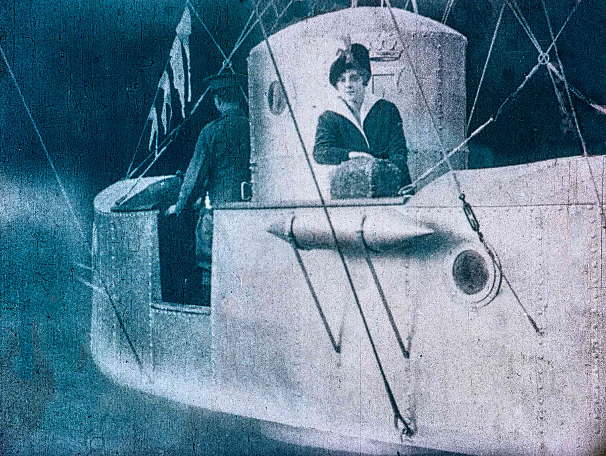 The screening will be accompanied by two of HippFest's favourite musicians - Jane Gardner (piano) and Hazel Morrison (percussion), and introduced by Dennis Doros the President of the Association of Moving Image Archivists and the co-Director of Milestone Film. It will be available to view until midnight on St Andrew's Day (Monday 30 November 24:00 2020) and all proceeds will go to supporting the Hippodrome – Scotland's oldest cinema, and home to HippFest year-round.
This classic silent thriller follows the adventures of Filibus (aka Baroness Troixmond … aka the cross-dressing Count de la Brive) the fiendishly clever, ever-so-alluring, techno-savvy mistress of disguise, and jewel-thief extraordinaire.
Throughout the film, Filibus travels high across the Italian Riviera in her airship from where she is lowered in a gondola by her henchmen, steals from the rich and then mysteriously vanishes into the clouds. When the film was first released in 1915 Filibus was a 'modern woman' who was seen as adventurous, bold, and unwilling to take a back seat to men. This was at a time when the suffrage movement was gathering momentum and this genre of film was becoming increasingly popular amongst women.
Alison Strauss Director of HippFest/Arts Development Officer (Film and Media), Falkirk Community Trust said:
"Filibus (1915) with live accompaniment was previewed back in March, on the eve of lockdown, at a community event in the heart of Bo'ness, kicking  off the programme for our milestone 10th edition.  We had all been so looking forward to sharing this terrific and little-known film with the wider audience, later in that week, but of course this was not to be.   So we couldn't be more pleased to partner with the Fair Saturday Foundation, whose digital platform has made possible this exciting online event and helped us bring some of the magic of HippFest in to people's homes. 
Whilst we can't physically welcome people in to the Hippodrome we are looking forward to welcoming people online, wherever they are.  We have a few ideas for how people can really feel part of the event.  We'll have some short intros, the option to be part of the online conversation with other audience members around the world, and some chances to actually join in the live music accompaniment.  We are hoping the audience, wherever they are, will take their inspiration from Filibus herself – the mistress of disguise – and dress for the occasion… steampunk aviatrix, masked jewel thief, 1920s baroness… whatever takes peoples fancy to create their HippFest at Home experience.  And we are hoping too that people will welcome the chance to support the much-loved home of the festival – the Hippodrome itself." 
Pianist Jane Gardner said:
"It is lovely to have the opportunity to accompany this film with my long-standing musical partner Hazel Morrison on percussion. We were both so looking forward to playing at HippFest this year, as the reaction from the audience in Bo'ness the week before lockdown had been fantastic. It was also really fun when everyone joined in and made the sound of an airship when Filibus was fleeing from the scene of her crime. I hope audiences enjoy this online version and look forward to playing at HippFest again in the future."
Dennis Doros, President of the Association of Moving Image Archivists and Co-Director of Milestone Film said:
"HippFest is one of the premiere silent film festivals in the world, and their staff's dedication to the cinematic art is unsurpassed. I am very honored and excited that FILIBUS will be playing on Hippfest at Home."
Sambrooke Scott, Head of Audience Development, Creative Scotland said:
"Having been denied it's full public screening back in March it's wonderful that HippFest is able to screen Filibus: The Mysterious Air Pirate online with its live accompaniment as part of St Andrew's Fair Saturday. Audiences will be for a real treat; able to experience this rarely seen but thrilling film from the silent era, enhanced by an illuminating introduction from Dennies Doros and the wonderful live accompaniment from Jane Gardner and Hazel Morrison. It's the perfect cinematic experience to warm this cold November weekend while also helping raise money for the Hippodrome, the home of HippFest."
Elif Rongen, Curator at the Eye Filmmuseum in Amsterdam which has the only surviving print of Filibus in its collection said: 
"It is clear that back in 1915, Filibus was made and marketed as an ambitious project, with different poster designs, and praised in large ads in trade papers. And it was certainly sold to a number of countries; next to the extant Dutch distribution print, more evidence has been found in several countries' newspaper ads. The film was even reviewed in an Ottoman newspaper published in Constantinople in 1915! However, despite its successes, Filibus was very quickly erased from memory and the film and its cast and crew members were condemned to obscurity. Today, the only surviving print within Eye Filmmuseum's Desmet Collection constitutes our ticket to rediscover this unknown portion of Italian cinema and it is as if Filibus is challenging us all to become better detectives of film history with her peculiar disappearing act. As the film foresees, Filibus always comes back with yet another cunning plan, and has the upper hand!"
St Andrew's Fair Saturday in Scotland is Scotland's contribution to the global Fair Saturday movement. In 2019, the festival delivered +800 events in +140 cities, involving +15000 artists, and attracting +250,000 attendees all around the globe. Specifically, in Scotland where 117 shows were delivered in 31 cities and towns all over Scotland, involving 1,596 artists, attracting 17,233 attendees and generating £76,794  for social causes.
In 2020 St Andrew's Fair Saturday will be celebrated from Saturday 28th November (Fair Saturday) to Monday 30th November (St Andrew's Day). Events will take place mainly online over this weekend through the official Fair Saturday Events app.
Jordi Albareda, Director and Founder of the Fair Saturday Foundation said:
"Our task at the Fair Saturday Foundation is to promote culture, now more than ever before. We must succeed in taking a step further, with culture as a means of ensuring social cohesion, sharing, empathy and equality. The idea is simple. Extremely simple. To create a festival in which different cultural organisations would perform supporting all at once social or cultural projects of their choice. And triggering a mobilisation around arts and culture. We are delighted that Scotland will be one of the countries leading Fair Saturday worldwide."
To view Filibus (1915) online click https://bit.ly/Filibus
For updates and more insight into Filibus and her adventures, register on the HippFest at Home Facebook page @hippfestathome for more info.
Filibus (1915)
Dir. Mario Roncoroni | Italy | 1915 | N/C U | English intertitles | 1h 11m + short
Accompanied by musician and composer Jane Gardner and percussionist Hazel Morrison
With: Varleria Creti, Cristina Ruspoli, Giovanni Spano, Mario Mariani and Filippo Vallino