Screenings 22 July 2021
Sound of Metal Blog July 2021
This blog post is by Manjeet Cross who visited the Hippodrome in June to see Sound of Metal along with fellow members of the Forth Valley Sensory Centre 'Talk and Sign' Group, coordinated by Linsey Stock. Although the group's activities have temporarily moved online, members got together for this cinema visit as part of one of their weekly sessions.
Manjeet was born deaf and her first language is British Sign Language.  Manjeet writes about her experience of growing up deaf in a multi-cultural background, her love of Scotland, her response to the film and how the characters' experiences compare with her own, and about the Hippodrome visitor experience.
Note: this blog contains *plot spoilers*. 
Supported by the BFI Film Audience Network with the aim of ensuring incredible films from across the globe are seen on the big screen.
"Hello, I would like to introduce myself, my name is Manjeet Cross.
I am profoundly (severely) deaf and wear two hearing aids so that I can use the residual hearing that I do have.  Most people who meet me assume that I am hard of hearing because I speak clearly and lipread well.  Perhaps you wonder, how a profoundly deaf person hears, lipreads and speaks clearly?  Let me tell you a bit of my background.
I was very lucky to have a deaf brother and sister with the rest of my family being able to hear.  We all communicated well together.  I was born in Scotland, growing up in Glasgow where I attended a School for Deaf Children.  We would use hearing aids to assist our hearing and speech.  My speech was not very clear, I had a 'deaf voice' with a Scottish accent.
When I was 13, the whole family moved to England.  I was very saddened.  My heart broke as I missed all my deaf school friends, my two best friends who are hearing, and most of all Scotland itself. 
In England, I attended a mainstream school with a Deaf Unit.  I remember one day attending music class but was told I was not supposed to be there.  "Why not?" I thought.  Apparently, music and language are "not suitable for Deaf people as they can't hear music or learn other languages"… but Deaf people can be musicians and learn other languages like French Sign Language or Spanish Sign Language?  Learning languages does not have to rely on speech and sound. I love listening to music.  As a younger person, I learned the song words by reading them in Smash Hits and NO.1 magazines.
While at the mainstream school, I learned to lipread, becoming very skilled and using this 24/7.  Lipreading relies on a person picking up a lot of visual information and clues, it requires a lot of guesswork and can be very tiring.  A person may only understand 20-40 percent of what is being said.  If a person wears hearing aids, it is important to have no background noise.
I can speak in my mother native language which is Punjabi. When I was at school the teacher told my mother it would be better for me to focus on improving my English and speech rather than speaking Punjabi.  Back then, my mum took this advice thinking that the teacher knew best.  I still feel that was a big mistake and wish I had continued to use Punjabi more as a younger person.  Nowadays, many deaf children have and use their native language/mother tongue but also learn to communicate in British Sign Language and to speak English too. 
I grew up surrounded by people who could hear and so learned how to communicate and behave in their cultural ways.   Deaf people who use British Sign Language, have a different language and culture to hearing (non-deaf) people.  Moving to England made me realise that I had to learn a different culture and that Deaf culture, Scottish culture and English cultures are all very different. 
I remember shortly after I moved to England, I was at a bus stop waiting for the bus.  I started chatting with the other people who were there.  They looked at me like I was weird.  Looking backing, I realise that in Scotland, people are friendlier and will chat to strangers, not something that is common in English culture.  As time moved on, I developed and adapted to this different culture and my accent adapted also.  Sadly, my Scottish accent faded but my Scottish personality never disappeared.  I'm still a right blether and always have a smile on my face.  My heart never left Scotland and I was delighted in 2014, to be able to move back.  I have never left Scotland since.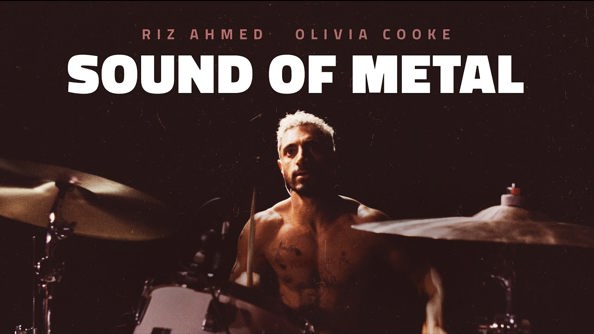 I have been invited to the amazing Hippodrome cinema with a group of deaf people to watch Sound of Metal.  It felt very strange to be going back to the cinema, especially with the ongoing pandemic.  However, as restrictions were now lifted, allowing everyone to go back to watch films, I was really looking forward to it.   To attend the Hippodrome was fantastic and the experience of being looked after by staff that have deaf awareness training, made me feel very welcome. 
The movie portrays what it is like lose your hearing, the challenge of living in a deaf world and a hearing world.  It shows it is possible to meet in the middle, to live between both, exchange views and understanding, and to appreciate and embrace the differences in languages and cultures.  In my view, the cochlear implant is like a powerful hearing aid but it doesn't make you perceive sound in the same way a person with full hearing would.
The main character Ruben was portrayed well by the actor Riz Ahmed, showing the journey of a person who acquires deafness later in life and his struggle to adapt to living as a deaf person surrounding by a hearing (non-deaf) world.  His choice to go ahead with cochlear implant surgery brought with it more changes to his life whereby he had to again adapt to different communication styles with deaf and hearing people.
For me I was able to relate to a lot of his story.  I have many friends who have cochlear implants, each of them being unique in their experience of how effective and/or useful a cochlear implant has been to them and their hearing.  Personally, I was deaf from birth which again is a different experience from becoming deaf later in life.
I could relate to Ruben's experience of going to a school for Deaf people and his feeling 'lost' as he did not know American Sign Language (ASL). He was initially unable to communicate with the children and adults there or to understand their cultural differences.
As a deaf teenager, I had the reverse experience where I had been attending a primary school for deaf children using British Sign Language (BSL) and then moved to a secondary school which was mainly hearing (non-deaf) children who used speech and had a different culture.  It took time to adapt and to fit in with the different culture and behaviour and to learn to use speech.  I felt like I lost my identity as a deaf sign language user and had to behave and act like a person who could hear.  Years later, I did regain my deaf identity again.
From beginning to end, I felt this movie was an emotional journey.  It is a powerful story and every detail of it is so crucial.  I felt sad when Ruben smashed up his music equipment and could understand his despair in thinking it was the end of his life.  To see his journey in to realising that there is always another way of looking at life was great.  I especially like the ending where Ruben finally realises what Joe had been trying to tell him – the acceptance of sitting in silence and hear nothing. That for me was the best bit!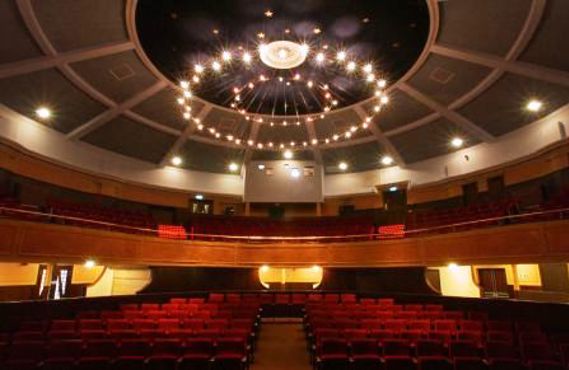 The Hippodrome is a very relaxing and cosy venue in which to enjoy the big screen.  You will be amazed at the design of the beautiful dome feature ceiling.  It is as if you are looking up to the sky.  Well worth a visit!  As is the beautiful wee town of Bo'ness in which it is set.  It's full of history including coal mining, shipping, railways, museums and the Kinneil Estate with its beautiful house built by the Dukes of Hamilton.  There are lovely shops to visit and a sea view to enjoy.  And a lovely chippie too!"