General 14 June 2021
Hippodrome Blog June 2021
The first of a regular blog post for our website from Alison Strauss, Arts Development Officer (Film and Media), Falkirk Community Trust – programmer of the Hippodrome year-round since it re-opened in 2009 and founding Director of the annual Hippodrome Silent Film Festival (2011 – present).
Alison has an MA in Film Archiving and worked at the British Film Institute National Archive for seven years.  She went on to work in Arts Development for local authorities in England and Scotland, specialising in Creative Industries, Voluntary Arts and Film.  She has served as a Board member for Art in Healthcare, Scottish Youth Film Festival and Regional Screen Scotland, and serves on the team of advisors for the BFI Film Audience Network's Advice and Experience Scheme. 
Last March we were just days away from Opening Night when the dreadful realisation crept over us that tinkering with the layout of the Friday Night Gala catering and briefing all our guests to bump elbows rather shake hands just wasn't enough.  The only option was to cancel our milestone 10th edition of HippFest!  Cancel arrangements for 30 events, for 80 performers, and for one mass custard pie fight…  Get in touch with over 2,000 ticket holders and 45 partner organisations to break the disappointing news that we couldn't go ahead.  I am quite a cheery person on the whole but, after months of hard work and planning, I admit to feeling pretty broken that night.  I sat down at my desk and cried.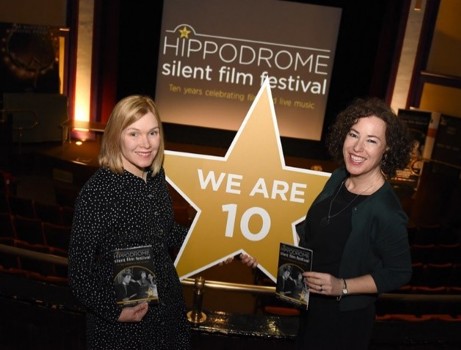 February 2020 launch picture to promote HippFest 2020… cancelled just days before the Opening Night (Left: Nicola Kettlewood, HippFest Producer.  Right: Alison Strauss)
The regular programme had been on a shoogly peg for some weeks too, with daily announcements from one distributor after another withdrawing their film from the 'slate'.  I was speaking about the Hippodrome at the UK Cinema Association conference in London when news started coming through on Twitter that the release of No Time to Die was going to be postponed by seven months.  After that, the rest of the year's film releases went like dominoes, as more and more titles were withdrawn altogether or kicked into the long grass.  In those weeks I lost track of how many times I booked a title in, only to have to score it out and start again.  Finally the Hippodrome went dark altogether after our screening of Little Women, then flickered into life briefly just before Christmas, and finally shut up shop for nearly five more months, as we and hundreds of other cinemas languished in Tiers 3 and 4.
So what does a film programmer like me do when cinemas up and down the land are closed?  My family think I get paid to just sit around and watch films but sadly this is far from the truth.  Watching films is definitely a requirement of my role but something that I usually have to do on my own time.  I am lucky enough to still have my loved ones, my job, my health and a roof over my head.  You would have thought that, with no cinema to go to plus all the basics in place and little else to fill my social calendar, I would have taken the opportunity to max out on streaming channels and to catch up on the backlog of preview film files sent to me by distributors and agents. 
I tried to watch films at home and did see a handful of brilliant, memorable features but, honestly, my heart wasn't in it.  Each Netflix, Amazon Prime and Disney+ premiere was bitter testament to the galling fact that some studios that were choosing to bypass cinema altogether.  Every buffering message was a frustrating metaphor for the hamster wheel that my life was reduced to.  Every interruption from the world around me was a sad reminder that watching from my sofa, on the TV just wasn't the same.  That isn't to say I don't recognise the value of virtual events.  With the help of the best teammates a girl could wish for we managed to pull together an entirely online edition of HippFest in March this year, and it was a triumph.  We reached an audience of over 1,200 who turned up in their living rooms all across Scotland, the UK, Europe and North America, to stream a total of 5,599 hours of 'content' across the five days.  The feedback from the audience was overwhelmingly positive.  It's just that I like the cinema more... and the Hippodrome most of all. 

So, as I was waiting patiently for cinemas to reopen, I have contented myself with a daily diet of brilliant TV:
The Sopranos (for family dynamics and food envy)
I May Destroy You (for dazzling considerations of power, friendship and consent)
Staged (for a clever, inventive, self-reflexive response to lockdown),
Line of Duty, (for bent coppers and Martin Compston's convincing English accent)
Ru Paul (for charisma, uniqueness, nerve and talent… obvs!)
And the full six seasons of Schitt's Creek… twice.  (for the blissful pleasure of a narrative that doesn't catastrophise being gay and most of all for the legend that is Moira Rose)
Just now I'm watching Mare of Eastown which is superb and manages to make the trope of a middle-aged detective with a troubled family life entirely fresh and relevant (at time of writing, one episode to go, so no spoilers please).
We're back up and running now at the Hippodrome with a brand new projector, sound equipment and audio description headphones for visually impaired audience members.  The programme is in place and I'm looking forward to finally being able to share with you some of the 5 star films I picked up during lockdown, including Rocks, Supernova, Another Round and Riders of Justice.  At the Hippodrome.  On the big screen. Where they well and truly belong.  And as for No Time To Die… we'll have it at the Hippodrome the first chance we get. 
See you soon and, in the meantime, remember to visit the listings on our Hippodrome website for more details and to book tickets https://www.hippodromecinema.co.uk/whats-on/ , and keep up to date with all the latest programme announcements and Hippodrome chat on our social channels @HippodromeFilm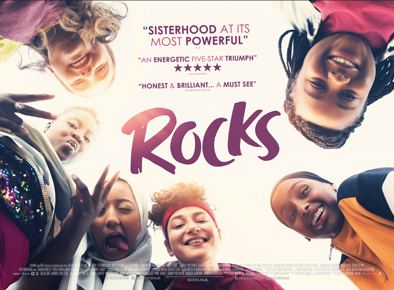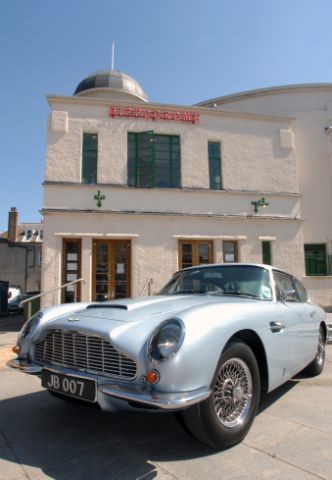 Aston Martin Bond car on loan from the Bo'ness Motor Museum for a photo op outside the Hippodrome.  Their latest acquisition includes 'No Time To Die' James Bond Edition motor bike https://www.bonessmotormuseum.co.uk/