General 17 November 2021
Bo'ness Community Bus Blog
This month's Hippodrome guest blog comes from Valerie Bruce – a Trustee of Bo'ness Community Bus.
We invited Valerie for her first visit to the Hippodrome to watch the film 'The Last Bus'… of course!  The Bo'ness Community Bus is a registered charity run by volunteers, which runs a vital, 'not for profit', scheduled daily minibus service between Bo'ness and Edinburgh, Linlithgow and Blackness, plus a hire service.  The Community Bus provides affordable public transport for commuters and students, supports local residents dependant on buses (particularly those in rural areas), provides access to free travel for concession bus pass holders, and works to promote visitor attractions in the area.    Bo'ness Community Bus SCIO.
The Last Bus stars Timothy Spall as Tom: an elderly widower, who uses only local buses on a nostalgic trip to carry his wife's ashes across the UK to Land's End, where they originally met, using his free bus pass.  Unbeknownst to Tom, his journey begins to capture the imagination of the local people that he comes across and, ultimately, becomes a nationwide story. 'The Last Bus' screened at the Hippodrome in September.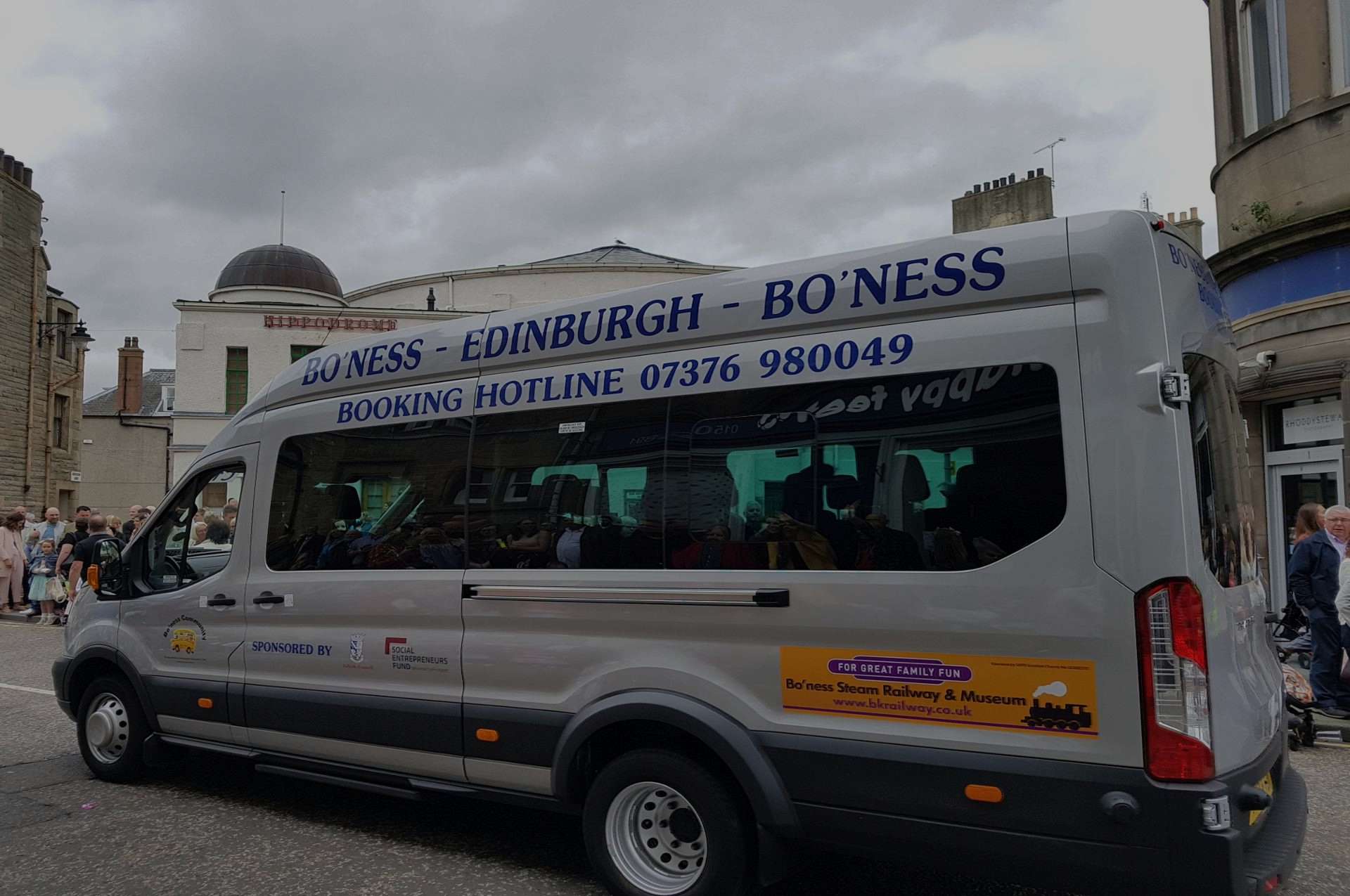 On Friday 17 Sept, I had the pleasure of going to the Hippodrome for the very first time. I am ashamed to say that, even though I have lived in Bo'ness for many years, I have never been to the Hippodrome, but I assure you that I will be returning.
What a gem of a cinema, it reminded me of the times I used to go to the Saturday morning shows when I was a youngster. Such fond memories. All that was missing was the interval and the ice-cream lady at the front of the stalls!
I am used to visiting the multi-plex cinemas with huge screens to watch blockbuster movies with lots of special effects, chases and music, but these venues are so impersonal when compared to the Hippodrome which has such a special, welcoming, personal and nostalgic feeling.
It was the perfect setting for watching The Last Bus with Timothy Spall.
The movie was about an elderly gentleman who, having lost his wife, made the journey 'home' using only local buses.  It was a tearful, happy, thought-provoking and typically British film. It shone a light on the very best of human nature, from the young girls on a night out to the amazing passengers who looked out for him on his travels.
My first thoughts were that this was going to be a slow meandering film, but once you just allowed yourself to relax into it and to embrace the story, I began to realise that this lonely elderly gentleman could be any one of us. We all live life at such a pace that we sometimes forget to stop and look around us, see what others are going through and provide a helping hand.
Interspersing the scenes with flashbacks to their happy life together, he visits places from their past. These stops were tinged with sadness as things have changed so much, and heartwarming scenes as he loses himself in the memories. It showed grief at its rawest.
As he encounters the various characters along the route, he has a sing-song in a bus station, attends a party and intervenes when a young passenger wearing a niqab is harassed. As a result, in the background, he finds himself a social media celebrity. This brought the two worlds together in a soft and gentle way.
Timothy Spall plays the slow, elderly, lonely grief-stricken widower to perfection – never overplaying the role and endearing himself to those around him.
Whilst it was not overly weepy, I did find myself welling up at times, and left feeling there are so many good souls out there. It would take a cold heart not to be touched by this movie
Whilst watching the film, I started to think about the role that our own Bo'ness Community Bus contributes to the local community. I had not really thought too much about the role we play in helping so many people keep in touch with one another and bring families and friends together. I now look at our services with a different eye and it was great to have some of my fellow volunteer trustees attend the movie with me.
Would I be returning to The Hippodrome – Absolutely! And I will be actively encouraging others in & around the local area to support it too. It is a little gem that deserves all the support it can get.