Screenings 24 January 2023
The Day I Met Tom Hanks
For this month's blog we take some time to rejoice in Tinsel Town's most likeable movie star: Mr Tom Hanks, who plays the lead role in the upcoming A Man Called Otto. Arts Development Officer (Performing Arts), Hazel Beattie shares with us her memories about the day she met this Hollywood legend… right here in Scotland….
Hazel trained at the Royal Scottish Academy of Music and Drama (now the Royal Conservatoire of Scotland) graduating with a BA in dramatic studies (Hons Acting). Hazel works as the Arts Development Officer (Performing Arts) for Falkirk Council and is also a professional actress and voiceover artist. She has worked in film, tv, radio, live theatre and recorded several audiobooks. Career highlights include playing the role of 'Mother Superior' alongside Vanessa Hudgens in Netflix hit 'The Princess Switch 3', working with Rylan for Virgin BAFTAs and performing the title song to sell-out crowds at the Edinburgh Festival in Captivate Theatres 'Sunshine on Leith'.
---
2005 was an exciting year for me, mainly because I became a mum for the first time, but also because I met the legendary and lovely Tom Hanks. 'The Da Vinci Code' was being filmed at Rosslyn Chapel where my husband Simon worked at the time as one of the managers.  As you can imagine there was much excitement especially when Simon got asked to be a supporting artist.  He was liaising with the film crew on where they were able to film when he saw Director Ron Howard looking at him and pointing him out to the crew.  He thought he had got in the way of a shot and was being asked to leave but they asked him to play one of the background characters in the chapel scene.   A crew member was sent into Edinburgh and came back with some very expensive clothes including boots and a leather jacket for him.  We couldn't believe so much money was spent on a supporting artist for around 3 seconds of screen time! 
Family were allowed to go down one day to have a look at the filming and of course I jumped at the chance, taking 3 month old baby April with me.  It was fascinating to see all the equipment and people working there and we were all a little star struck!  As I was standing in the doorway a large figure in a black woollen coat walked past and I realised it was Tom Hanks himself!  Suddenly he stopped and turned to look at me standing with April in my arms.  My heart was racing as I thought he was going to ask us to leave – oh the embarrassment!  However, he turned and said "I just gotta have a hold of that baby!"  He took her in his arms and told us all about how he was missing his own kids whilst filming and was so lovely and friendly.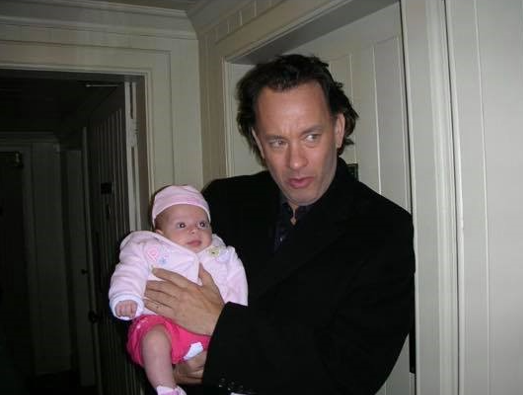 People were snapping away on their cameras capturing this beautiful moment – all I could think about was don't spit up on his black woollen coat, continuity nightmare! She was, however, very well behaved and was unaware of the superstar encounter she had just taken part in! We hurriedly got the pictures developed (ask your parents kids!) and he very kindly autographed it with 'To April – Grow Up!- Love Tom Hanks'. 
We still treasure the photograph and the memory of our wonderful experience that day.  People say he is one of the nicest people in showbusiness, and after our brief meeting I have to say I wholeheartedly agree. 
---
Tom Hanks stars in A Man Called Otto screening at the Hippodrome until Wednesday 25 January.